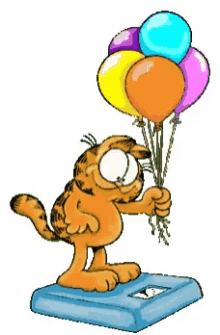 I recently discovered that my left knee must be surgically replaced if I want to stay active. Now, I am in good health, and go to the gym, though due to not being able to do my usual walks on the mountain my weight has crept to my upper normals over mid to lower normals. So, I'm going to do something for myself to get stronger and heal quicker after surgery. I'm going to challenge myself to get back to a few pounds lighter and to maintain my lower healthier weight.

Maintaining a healthy weight offers numerous benefits that positively impact both physical and mental well-being. Firstly, it reduces the risk of developing chronic diseases such as diabetes, heart disease, and certain types of cancer. By keeping weight within a healthy range, individuals can lower their blood pressure, improve cholesterol levels, and enhance overall cardiovascular health. Additionally, maintaining a healthy weight promotes better joint health, reducing the strain on bones and joints, and lowering the risk of conditions such as arthritis.
Secondly, maintaining a healthy weight has significant psychological advantages. It can boost self-esteem and body image, leading to increased confidence and a positive outlook on life. Regular physical activity, which often accompanies weight maintenance, releases endorphins, improving mood and reducing symptoms of depression and anxiety.
Moreover, individuals who maintain a healthy weight tend to experience better sleep patterns, increased energy levels, and improved cognitive function, allowing them to perform daily tasks more efficiently and effectively. Overall, maintaining a healthy weight is a holistic approach that supports both physical and mental well-being, leading to a higher quality of life.
Exercise is also extremely important, and even if I cannot walk the distances I am used to doing right now, I am still maintaining an exercise regimen three to five days a week.
Exercise offers a multitude of benefits that positively impact both physical and mental well-being. Firstly, regular physical activity plays a vital role in maintaining a healthy weight and preventing obesity. Exercise helps burn calories, build muscle mass, and improve metabolism, contributing to weight management. Furthermore, exercise promotes cardiovascular health by strengthening the heart and improving circulation, leading to reduced risks of heart disease, high blood pressure, and stroke. It also helps improve lung function and enhances overall endurance and stamina.
Secondly, exercise has significant mental health benefits. Physical activity stimulates the release of endorphins, often called "feel-good" hormones, which can improve mood and reduce symptoms of depression and anxiety. Regular exercise has been shown to enhance cognitive function, memory, and concentration, leading to improved productivity and mental clarity.
Moreover, exercise provides a healthy outlet for stress relief, helping to reduce stress levels and promote relaxation. It can also boost self-esteem and body image, fostering a positive sense of self and promoting overall mental well-being. In summary, exercise is a powerful tool that benefits both the body and the mind, leading to improved physical health, increased energy levels, and enhanced emotional well-being.
Here are five ways to start exercising
Set achievable goals: Begin by setting realistic and achievable exercise goals. Start with small steps, such as aiming to exercise for 20 minutes three times a week, and gradually increase the duration and frequency as you build stamina and confidence. Setting achievable goals helps maintain motivation and prevents overwhelm.

Find activities you enjoy: Engaging in physical activities you enjoy makes exercise more enjoyable and sustainable in the long run. Experiment with different activities such as walking, cycling, swimming, dancing, or joining a sports team. Discover what you find fun and fulfilling, and incorporate it into your exercise routine.

Make it a habit: Consistency is key when starting an exercise routine. Schedule dedicated time for exercise in your daily or weekly calendar and treat it as an important commitment. Consider exercising at the same time each day to establish a routine and make it a habit that becomes part of your lifestyle.

Start small and progress gradually: It's essential to start at a comfortable level, especially if you're new to exercise or returning after a long break. Begin with low-impact activities and gradually increase the intensity or duration as your fitness level improves. Listen to your body and don't push yourself too hard initially, as this can lead to injury or burnout.

Get support and accountability: Seek support from friends, family, or a workout buddy who can join you in your exercise journey. Having someone to exercise with can make it more enjoyable and provide mutual encouragement. Additionally, consider joining fitness classes or programs that offer structure, guidance, and accountability to help you stay motivated and committed to your exercise routine.
Maintaining a healthy weight not only benefits your physical health but also plays a crucial role in supporting your emotional well-being. Here are five reasons why maintaining a healthy weight helps your emotions:
Improved self-esteem: Achieving and maintaining a healthy weight can boost your self-esteem and body image. Feeling confident in your physical appearance can positively impact your emotional well-being, leading to increased self-worth and a more positive self-image.

Reduced stress levels: Regular exercise, which is often a part of weight maintenance, releases endorphins, which are known as "feel-good" hormones. These endorphins can help reduce stress levels, promote relaxation, and enhance your overall mood.

Enhanced mental clarity: A healthy weight is often associated with a balanced diet and regular physical activity, both of which contribute to improved cognitive function. Proper nutrition and exercise support brain health, leading to better focus, increased mental clarity, and improved emotional stability.

Increased energy levels: Maintaining a healthy weight can provide you with more energy throughout the day. When your body is fueled with nutritious foods and regular exercise, you are more likely to feel energized and ready to tackle daily tasks. Higher energy levels can contribute to a more positive and optimistic outlook on life.

Better sleep quality: Carrying excess weight can sometimes lead to sleep problems such as sleep apnea or disrupted sleep patterns. By maintaining a healthy weight, you can reduce the risk of these issues and promote better sleep quality. Sufficient, restful sleep is essential for emotional well-being, as it helps regulate mood, improves stress management, and enhances overall emotional resilience.
If you would like to join me in a private FB group for eight weeks of free coaching to release a few pounds, and know how to maintain that for life go here and join my group! I will then get you all the details. Here's the link to the FB group! https://www.facebook.com/groups/knowyourscale/